Socio-ecological Problem-solving in Southeast Asia and Europe (3 ECTS)
Autumn 2023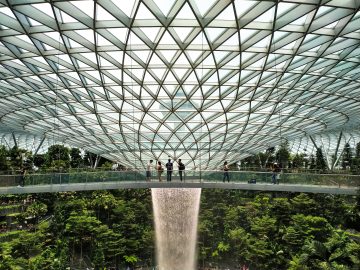 Application period: 21.8.-17.9, 2023
Language: English
Time: 2.10-31.12.2023
Organizer: Centre for East Asian Studies, University of Turku ; Ateneo Institute of Sustainability, Ateneo de Manila University, the Philippines
Note! This course has obligatory fixed-time online meetings.
Learning outcomes
Students learn to apply socio-ecological problem-solving tools to real-world sustainability problems in Southeast Asia and Europe. Through different case studies, students gain understanding of the interconnectedness of communities, institutions, culture and the biosphere, and how it manifests in different socio-ecological contexts in Asia and Europe. The course provides skills that help to arrive at a holistic solution towards ecological conversion and sustainable development. By the end of the course the students will have developed transferable skills in problem solving, critical thinking, analytical reasoning, creativity, intercultural communication and teamwork.
Content
This course provides an orientation into various approaches to sustainability, such as systems theory, integral ecology and the doughnut economy and discusses them in Southeast Asian and European contexts. It offers tools to the articulation of interconnections among the different spheres of life, and to look critically at the social, economic, political, cultural dimensions of environmental problems. Finally, the studied concepts are operationalized and applied to real-world problems in the Southeast Asian and European contexts in interactive, problem-based case studies.
The course is developed by the Ateneo Institute of Sustainability, Ateneo de Manila University. in the Philippines. in collaboration with the Finish University Network for Asian Studies. The development of the course has been funded by the FAPSU-project.
The course consists of two modules:
Module 1: Sustainability and Integral Ecology
This module introduces various paradigms, approaches, models and tools for analyzing sustainability and socio-ecological issues. Students are oriented on the practice of systems thinking as an approach for understanding complex issues and discerning potential solutions. Lecture topics include:
Concepts, paradigms and issues in Sustainable Development
Integral Ecology as aligned with Sustainability
A Systems Approach to Sustainability
Futures thinking
Ecological leadership.
Module 2: Case Studies
This module focuses on the application of the paradigms, concepts and tools discussed in Module 1 towards the analysis of case studies with complex socio-ecological implications in the Southeast Asian and European contexts. There will be two case studies on Southeast Asia, focusing on the Philippines and two case studies from Europe, focusing on Finland.
Taken As:
This course consists of two modules that require independent online learning as well as participation in real-time teaching and group discussions. Students will submit a lecture diary after both modules.
Module 1 (4 weeks)
Materials: Recorded lectures and reading materials and a real-time online lecture.
Taken as: Lecture diary based on lectures and reading materials, online quizzes and assignments. Attendance at the joint real-time online lecture with the Ateneo de Manilla University students is highly recommended.
Module 2 (4 weeks)
Materials: Case study reading materials.
Taken as: Case study workshop participation and a learning diary based on the case studies. Reading the case-study materials before the workshops, and attendance in six obligatory case study workshop sessions (90 min) in fixed-time online meetings with the Ateneo de Manila University students.
Dates and times of the obligatory fixed-time online teaching sessions:
Module 1:
Tue 3.10. 10.30-12.00 Online lecture: Group Dynamics: Ecology in Cultural Context
Module 2:
Fri 27.10. at 10.30-12.00 Case study 1: introduction
Tue 31.10. at 9.30-11.00 Case study 1: Online groupwork with Manila Students
Fri 3.11. 9. at 9.30-11.00 Case study 1: Group presentations on case study analysis.
Tue 7.11. at 9.30-11.00 Case study 2 discussion and activity based on preparatory prework
Tue 14.11. at 9.30-11.00 Case study 3 discussion and activity based on preparatory prework
Tue 21.11. at 9.30-11.00 Case study 4 discussion and activity based on preparatory prework
Grading: 0-5
Application process:

Students who hold a valid study right at University Network's member university can take this course for free. This includes both degree students and exchange students.
Other students can apply to the course as external self-paying students of the University of Turku.
This course has a maximum intake of 15 students.
Go to application instructions by clicking here.
Once your application has been processed, you will receive a  message about the decision. This will come a few weeks after the application period has ended. If you are accepted to the course, you will receive a welcoming email on the first day of the course, and gain access to the course site in the Moodle. The welcome email comes to the address you have given in the application form. It may go to the spam or offers-folder of your email (at least gmail tends to do it), so check those folders too.
Picture: Connecting Flights, under Pexels License.